Home About Us Solutions Clients Resources Contact Us

Focus on the Choice
What do we mean? Think about the fact that every person you work with, sell your product to, every possible client, or web visitor has a choice as to whether to work with you or not. Unless you've monopolized your market, chances are you find yourself with many competitors, many alternatives for your clients.
What does this mean to you? It means that your website and marketing needs to be evaluated and optimized in order to reach the levels of success possible.
We're a website design, redesign and marketing solutions firm with a focus on concrete results. In order for us to provide those results, we continually focus on the Choice- on what gets people to your site, what convinces them to stay there and what pulls them to make the decision to work with you, buy from you; to establish that crucial relationship.
There are five main areas of our work, which we'll highlight below. Once you determine which is most important to you right now, click on the link for more information. You'll find that within each page, we give you concrete ideas you can take away and work with right now. We'll help you take a different approach to your website and marketing, an approach that we know can provide immediate and tangible benefits.
The truth of the matter is most websites have gaping holes in them. Design without search engine optimization. Customer acquisition without customer retention. And that's being optimistic! Begin thinking about the choice your customers have to work with you, and start that process by making the choice to learn more below.
One last thing. Before you start exploring, make sure to sign up for the Online Success newsletter. It comes out once per month, and contains new insights and opportunities to improve your website and marketing results. Sign up on the right side of this page.
Website Design ——– Website Redesign
Search Engine Optimization ——- Permission Marketing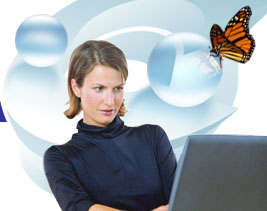 "They have the patience needed to work on your site until you feel you have the very best product…"
" Ortner Consulting redesigned the web site, and implemented a variety of creative and powerful elements into our business…"
Read more